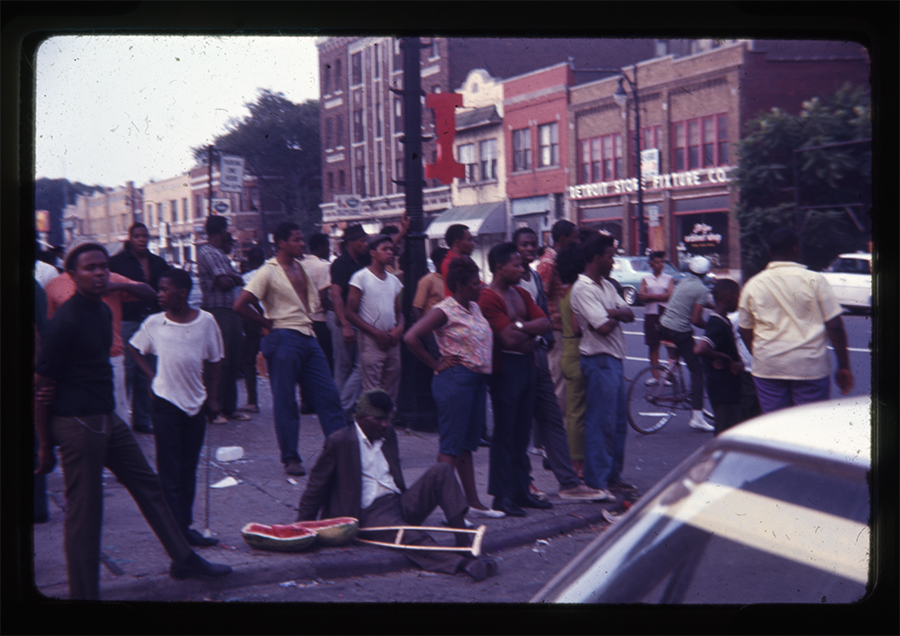 28 Jul

Working Together to Move City Forward

The Detroit 67 project has convened conversations across the city to help the region come together for the next 50 years. An event bringing together civic, business, and community leaders led to a candid dialogue about the progress of the last 50 years in Detroit and what must still be done over the next 50 years to make Detroit a more equitable and successful city.

Crain's Detroit – The Rebellion. A revolution. Detroit Riots. The uprising of Detroit.

These are just a few names for the civil disturbance that began July 23, 1967, after a police raid at an unlicensed bar in the city. The result? More than 7,000 arrests, 1,700 fires, hundreds of injuries, 43 deaths and a deep-seated trauma that prevented Detroit from becoming what it could have been.

Though there isn't consensus on the progress made since '67, most agree long-simmering frustration with racial inequity catalyzed the rebellion.

"It's not like a bunch of black people woke up one day and decided to burn down buildings," said Bob Bury, executive director and CEO at Detroit Historical Society. "Every single day that gets validated through conversation and the hundreds of oral histories we have collected."

Conversation is, in part, how the Historical Society is commemorating the anniversary of the unrest. A major exhibit, opening June 24, surveys the 50 years before and the 50 years since 1967 in hopes of defining a positive Detroit future.

On May 2, 2017, the Historical Society and Crain Content Studio, the custom publishing division of Crain's Detroit Business, gathered 11 business leaders and community advocates for a candid discussion about the reasons behind the insurgence and what should have happened in the 50 years since. This conversation, moderated by Crain's Publisher Ron Fournier, also focused on how to bring equity to the city.

How we got to 1967

"If you want to encapsulate the conditions, it was America's slow progress — too slow, glacier slow — in recognizing that we are not a country of equality," said John Rakolta Jr, chairman and CEO of Detroit-based construction company Walbridge Aldinger Co. and winner of New Detroit's 2016 Leadership in Race Relations Award.

Detroit endured two sizable riots prior to 1967, Rakolta said. "And we ignored them."

The first occurred in 1925 after eight months of police shootings and violent block busting; the second happened in the summer of 1943.

In the outset of the 1940s, thousands — black and white — were moving from southern states to Detroit seeking employment in defense industry production. The federal government neglected to enforce its own rule that communities couldn't bring in more labor until they used local labor. Whites, who brought with them racial sentiments of the south, found themselves sharing labor opportunities; blacks, not welcome in white neighborhoods, found themselves living in slums.

In 1942, the NAACP warned public officials they needed to act against police brutality, mob attacks on the homes of black citizens, job discrimination and other racial inequities or "all hell will break loose in Detroit," according to an NAACP report. They didn't. Then, on June 20, 1943, ferocious clashes between blacks and whites spread from Belle Isle to Paradise Valley, quelled after three days with the arrival of Army tanks and machine gun fire. Thirty-four people died. Police killed 17 of the 25 African-Americans who died.

Josh McManus, chief operating officer at Rock Ventures LLC, described a scenario where attitudes and behaviors haven't changed much. "I would make the argument that Detroit is the largest de facto military base that was never properly decommissioned post World War II," he said.

Despite a 20 percent plunge in the city's population from 1950-1960, he said there was "a sort of second escape of Jim Crow" from 1950-1967 where African-Americans moved from the south in hopes of inclusion and economic opportunity only to find the promise wasn't true.

Influential, upwardly mobile African-Americans lived in the neighborhood of 12th (now Rosa Parks Boulevard) and Clairmount, where the trouble started. Back then, it was a diverse, walkable community that had all the necessary services and resources. But there were still unresolved issues and mounting resentment.

"One of the things I always heard about growing up in Detroit was S.T.R.E.S.S. and that particular faction of the cops. I heard about the redlining. My parents still have stories. They wanted to stay in the city; but even when they looked outside the city, they were warned about not moving into certain neighborhoods," said Sarida Scott, executive director of Community Development Advocates of Detroit.

When the rebellion happened "there was such a traumatic transition that immediately people felt like … the community itself was broken," explained Anika Goss-Foster.

Yet no one came to repair it, she said.

Goss-Foster is executive director of the Detroit Future City Implementation Office, a nonprofit supported by public and private organizations to implement a long-term decision-making guide for Detroit. She pointed out that other cities that endured uprisings — such as Los Angeles and Newark — intentionally repaired, rebuilt and reinvested in rebellion-torn areas, but that didn't happen in Detroit.

"We've spent a lot of time in Detroit working around what happened at the core of the uprising and the core of the issues … but not addressing all of it," she said. "And because we weren't dealing with it as a community … there are still burnt-out buildings in that neighborhood from 1967."

While blacks have made certain advancements with the help of the Civil Rights movement and the Civil Rights Act of 1968, for some, the aggravation hasn't lessened much over the years.

"In the household that I grew up in, I didn't hear racially charged language, but I know a lot of my contemporaries did," said Peter Kellett, chairman and CEO of Dykema. "And I know it's still out there. Generationally, in the passage of time the society skews some of this stuff. There are times when I read the newspaper and I wonder if we are stepping backwards."

Added Scott: "We talk a lot about the fact that we shouldn't be patting ourselves on the back in Detroit thinking that what happened in Baltimore or Ferguson (with police shootings) couldn't happen here. …The lack of the power on the ground and the frustration with the conditions that have persisted for so many years — people get frustrated. Particularly … with a narrative that the city is on a comeback and you're still in a neighborhood where you don't see any of that. There's a lot of anger and frustration."

Rakolta said conversations about what happened, and specifically about race, are what's missing not only in Detroit but in all of America.

"We did not have it when Barack Obama was president. And if there's one thing that I blame him for it's the inability for our society to begin to talk about the structural issues of race and how they affect every decision, every single day," he said.

Carla Walker-Miller took issue with Rakolta's comments. Like many supporters of the former president, she said Obama couldn't have had discussions about race.

"He was a victim of what we're all victims of — white fear. White fear is a justification of everything that happens in the minds of white people. If you're afraid, you legislate. When crack cocaine happened, white people were afraid. Now that opioid addictions are happening, they are not afraid because they know the people involved. So, the legislation is totally different," said the president and CEO of Walker-Miller Energy Services and winner of the U.S. Small Business Association's 2015 Michigan Woman-Owned Small Business of the Year Award.

"White fear is just an interesting phenomenon to me. Whether it's a fear 'we are going to have to change to accommodate black people's needs (or) we're going to have to change and respect black people (or) they are going to break into our houses.' There are so many elements of white fear. I have never experienced the level of racism, sarcasm, negativity about black people until I moved to Detroit."

Still, she applauded Rakolta's history of holding dinners — about 80 so far — solely to discuss race issues. "There are many people who haven't been in more than one serious discussion that lasts more than five minutes because that's when the discomfort comes in. If there's racism, white men have to do something to make it better. It means white men have to lose something, that's how it's translated," she said. "Here's what I tell white people about race and me: 'You don't want to talk about race with me. You may feel like you do, but when we talk about race, it's hard. It's annoying. It's painful.' I deem myself an angry black woman because I don't know how you can grow up in this country as a black woman with respect for yourself and not be angry."
If education doesn't improve, nothing does

In 1966, the influx of people arriving in Detroit for work incited the building of more than 370 schools, according to a Loveland Technologies study.

However, as white flight and disinvestment increased, the number of Detroit Public Schools decreased. Fourteen schools closed in 1976, 15 in 1986 and nine in 1990. At the same time, reports of corruption rose. Officials spent millions to renovate schools only to close them a few years later. Between 2000 and 2015, another 195 schools shuttered. And media began reporting on schools with black mold and no toilet paper. Early this year, the state announced another 38 schools were on the proverbial chopping block for consistently failing.

"In the 14th Congressional District, there are so many K-12 schools that are closing, they will be down to two high schools from Woodward to Grosse Pointe. It feels very intentional, it feels very systemic," said Goss-Foster.

The issue is deeper, she said, than throwing money at the schools. She said it's about looking at the systems that are in place to help children succeed in school, in the neighborhood and at home. "If we continue to treat schools as if they are these islands that are separated from everything else, we will not make much progress, I don't care how much money we have."

Rip Rapson, president and CEO of The Kresge Foundation, agreed that education is central to any conversation about the city's future.

"If someone said to me, there's a surefire way of solving educational opportunity if only the philanthropic community would find a billion dollars a year for the next five years, we absolutely would do it," he said, snapping his finger to illustrate. "Yet like most cities in America, we just don't have the insight, or the will or the political impulse to get it done."

There were 8 million school days last year, said Rakolta, taking into account all of the Detroit school children. "The students missed 2 million of them. That's 25 percent. You can't move on in society by missing 45 school days a year on average. You can't get economic development unless you have an educated workforce. That single issue is so important to the future of Detroit."
Moving forward, gaining momentum

Many African-American business leaders and advocates contend that for far too long economic development has remained in certain power centers, such as downtown and Midtown.

Lauren Hood, acting director of Live6 Alliance-Detroit, a nonprofit planning and development organization, called the problem in Detroit neighborhoods systemic.

"As of 2015, of the Detroit small businesses, meaning businesses with over $50,000 in revenue and more than two employees, only 15 percent of those businesses are African-American owned," she said. "This is a systemic issue about the availability of credit, of building business, of how we make investments in Detroit."

It's also an issue of confidence and perception. Hood said she finds herself reminding people their voices are important and their ideas could lead to entrepreneurship. "Certain groups of people need to be reassured they have value, whereas other people (white people) are just born into the world like 'I have value.'"

Aaron Eckels
From left: Rip Rapson, Anika Goss-Foster and Mark Douglas.
In addition to confidence, community development requires a certain business know-how. Mark Douglas, president of Avis Ford Inc., said entrepreneurs need to understand the importance of asking questions to learn more about running a business. He said they also need to understand where the needs are. Is the community in need of a dry cleaner or grocery store, for instance?

"You have look at first what these communities need and then you try to fulfill that need with some kind of service," he said.

A large-scale solution to development equity in Detroit, said Walker-Miller, is for "powerful white men to reach outside of their organic circles and include people who don't look or talk or act like them.

"Economic development is based on deal flow," she said. "If I knew four years ago that the (hockey) arena was going to be built right there, I would have done some things that the people who had that information did to make sure they were well-positioned to profit from it. As long as I don't have access to those people and that information, I'm on the very end of that deal flow and that's repeated for almost every deal that comes about. So, the people with money are making the decisions."

McManus explained such deals are part of Detroit's "psychosis of scarcity" which keeps people operating behind the scenes. In cultures of abundance, business leaders state what they intend to do and allow everyone to come along and participate. To do that requires trust, he said. "Trust is a muscle that needs development and memory."

Ray Telang, market managing partner for the accounting firm PwC, said equity means everyone sits at the table. "Equitable means each one of us may come to the table with different challenges and may need different tools to help them get to the same spot," he said.

"It's a challenge … to create a scenario where it is inclusive and it does work for people because we should have demonstrated to ourselves that either of the extremes don't work," said Matt Cullen, volunteer president and CEO of M-1 Rail, chair of the Detroit Riverfront Conservancy and a principal at Rock Ventures. "A city run by white people with blacks in the disadvantaged minority or a city of 85 percent African-Americans, they are both wrong. They just aren't healthy. They're not sustainable in the way we want them to be."

As an example, Cullen pointed to African-American colleagues he had from General Motors who would move into town and say, "I don't want necessarily to live in a 90 percent African-American area. I want to live in a normal area with everybody kind of getting along." Now, he said, Detroit has that opportunity.

"It started downtown, but there's a lot of work taking place in the neighborhoods. We have to make it work because we need the revenue from the taxes. We need the jobs. We need the opportunities. But then, we need to make sure we are very thoughtful and purposeful about cascading those opportunities into the neighborhoods and creating jobs for people and education for people."

Not everyone agreed with Cullen.

"I don't think it's the fact that Detroit is an 85 percent black city; it's the fact that all the other issues are there," said Scott.

Rapson summed up the conversation. "We have begun to understand the building blocks of what it'll take to get us there: A combination of economic revitalization, educational achievement, neighborhood resilience, either personal or social compacts that are stronger and more powerfully constructive to the long-term outcomes we need," he said.

Hood took it further. "It's something internal and lets certain people show up to the table and dominate a conversation and others have to sit and raise their hand. Whatever that thing is. I don't think it's about money, and I don't think it's about the right education.

"I think people in neighborhoods need hope or faith or the belief that their contribution matters."

The stories on this page were created by Crain Content Studio — Detroit, the custom publishing subsidiary of Crain's Detroit Business. The stories are commissioned by sponsors and/or clients, who control the content.