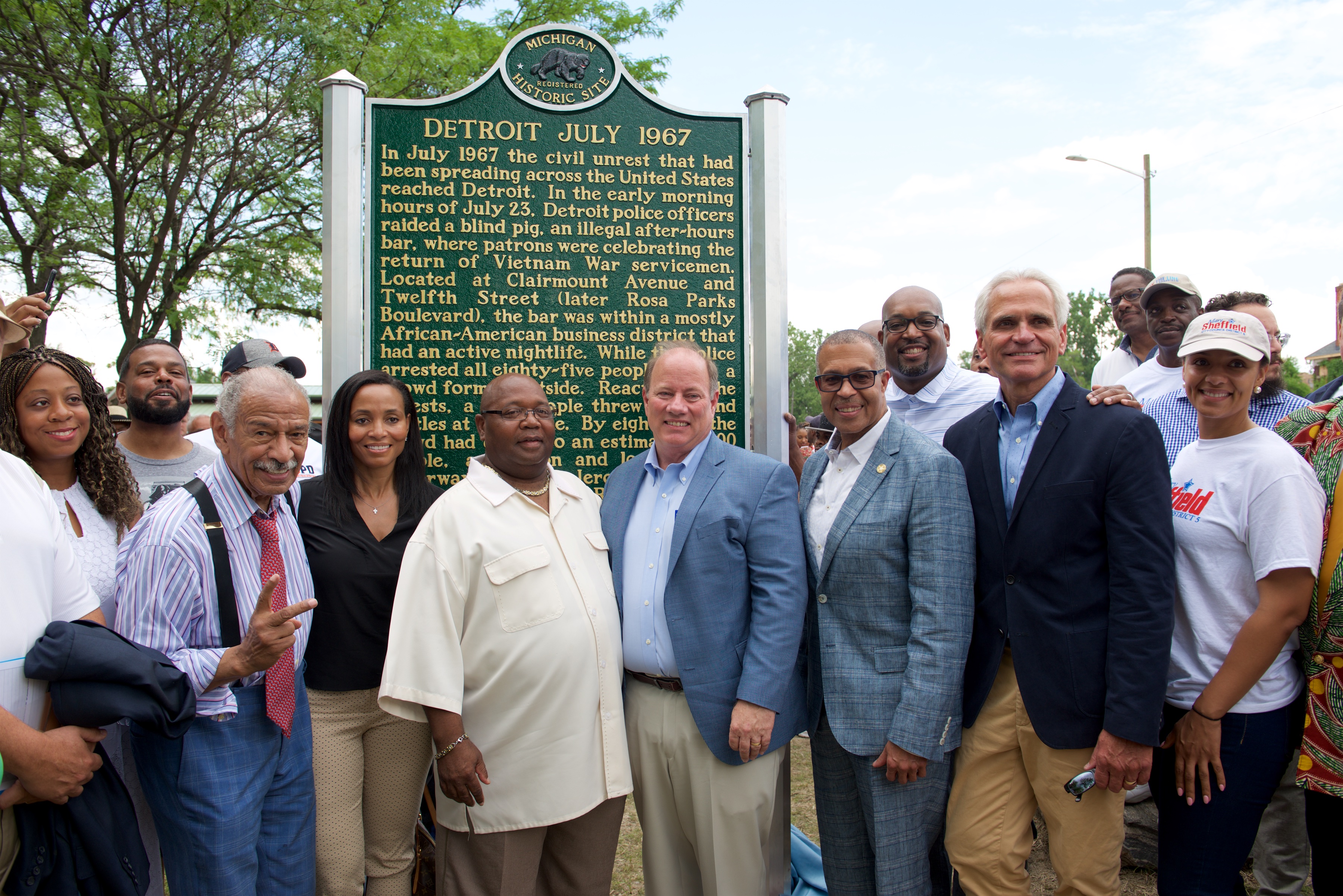 23 Jul

Remembering Detroit '67

From left to right: Congressman John Conyers, PNC Vice President and Client & Community Relations Director Gina Coleman, Brothers Always Together President Lamond Causey, Mayor Mike Duggan, Police Chief James Craig, Project Director of Detroit 67 Marlowe Stoudamire, Detroit Historical Society President Bob Bury, Councilwoman Mary Sheffield

Today Detroiters gathered at the site where Detroit's civil unrest began 50 years ago. The Detroit Historical Society, State Historical Commission, Congressman John Conyers, Congresswoman Brenda Lawrence, Mayor Mike Duggan and other dignitaries came together to recognize the historic events and help Detroit move forward.

As we remember this historic event, we remember

Dates: July 23-July 27, 1967

Deaths: 43 (33 African Americans, mostly at the hand of law enforcement, and 10 whites). One police officer, one National Guardsman and two firefighters died.

Injuries: 1,189

Damage: The official figure of between $287 million and $323 million (in today's dollars) is only a partial total: Losses by individuals who were uninsured or had partial insurance were not counted. It also did not include business-interruption costs and financial losses to individuals and city government, lost wages and lost retail sales outside the riot areas.

Complete coverage: 1967 riot: Rebellion and unrest

Arrests: 7,231

Stores looted or burned: 2,509, including 611 food markets, 537 cleaners and 285 liquor stores. The vast majority of damaged buildings were never rebuilt.

Homes: About 388 families were displaced. Detroit was the only city in 1967 whose disorder caused serious damage in residential areas.

Fires: The Detroit Fire Department responded to 3,034 calls during the disorder. Nearly 700 buildings were destroyed.

Law enforcement: Quelling the riot were about 17,000 members of Detroit Police, Michigan National Guard, Michigan State Police and U.S. Army paratroopers from the 82nd and 101st airborne units.

Elsewhere: Civil disorders broke out in 128 cities in 1967, but none came close to Detroit's in the number of deaths or extent of damage.