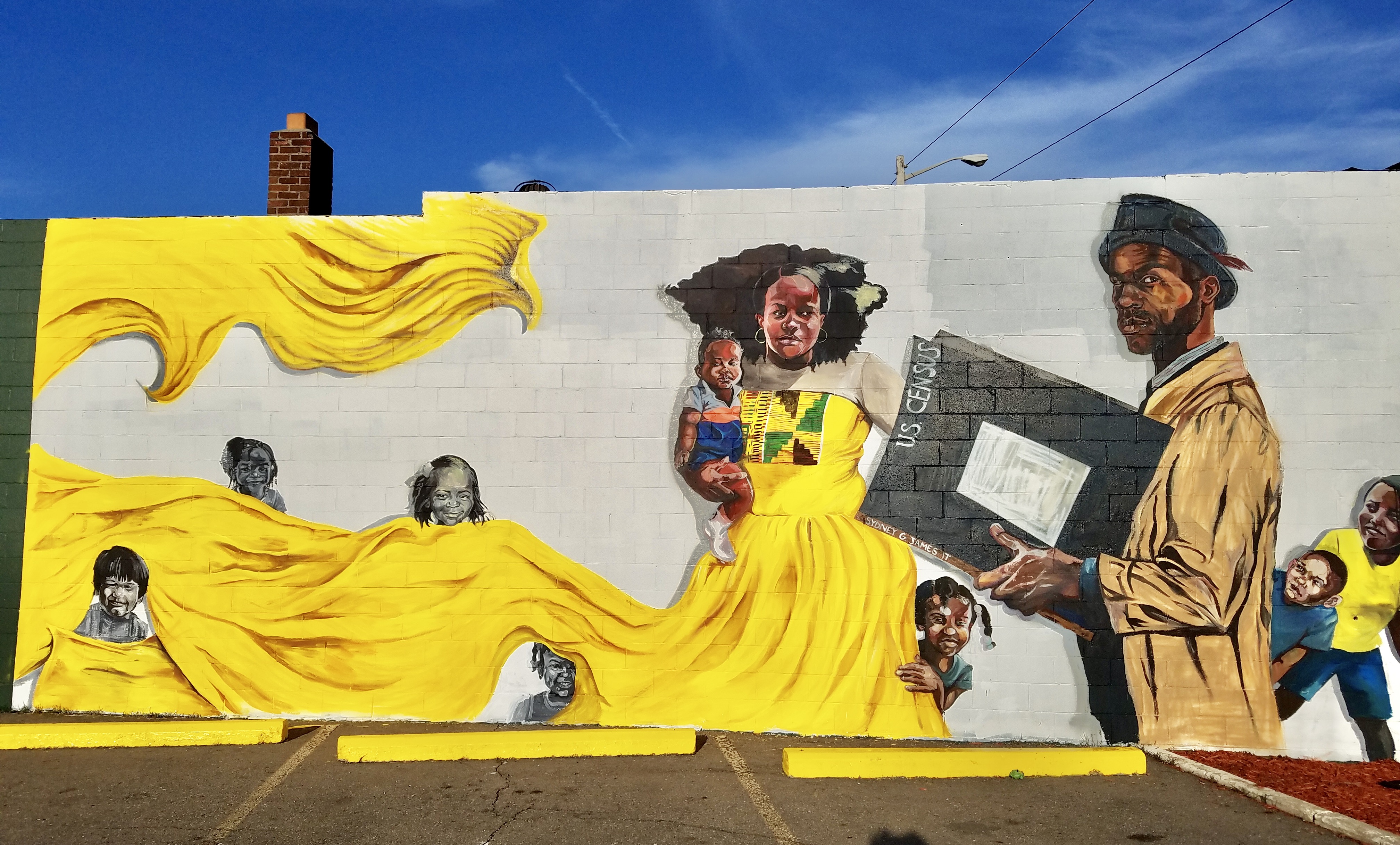 05 Sep

Out of the Ashes We Thrive

"Many people moving or visiting Detroit now, say things like,'It's making a comeback,' and behave as if the city is a new discovery," says artist Sydney G. James. "I would argue Detroit NEVER left."

James left Detroit for a seven-year stint in LA, but she always knew she'd come back to her hometown, a city she sees rich with art and full even during times of despair. Her career evolved from illustrator [she received her BFA specializing in illustration from the College for Creative Studies] to illustrative fine artist while working in LA on various TV shows. She told other people's stories, she says. Now she tells her own.

"As of the past two years, most of my murals tell the story of strong, yet vulnerable, black women," she says. Her murals can be found throughout Detroit and Los Angeles, with temporary public works in New York and Atlanta. In 2015, Roula David, one of the founders of Murals in the Market, invited her to paint a mural for the inaugural festival in Eastern Market.
"In my work, I try to tell stories of the times. I use black women archetypes to tell my stories, but they are still created to illustrate the times."
"Out of the Ashes We Will Rise" is one of James's latest Detroit murals. Located on the shipping dock of the old Federal Reserve Building [160 E. Fort Street], James recreates the City of Detroit flag. The two women usually stoic in the middle of the flag are brought to life as strong, graceful dancers. The three countries which have laid claim to the city frame the dancers.
James sees Detroit evolving, just as any living, breathing thing does. She sees it as a thriving metropolis in the next decade, but there are still inequities in housing and life. She sees public art growing in Eastern Market, the Grand River Creative Corridor and Southwest Detroit.
"I see new falling in love with the city that all homegrown Detroiters have always held close to their hearts," she says.
"I see hope."
To see more of James's work, visit Sydneygjames.com. Photos courtesy of Sydney G. James.