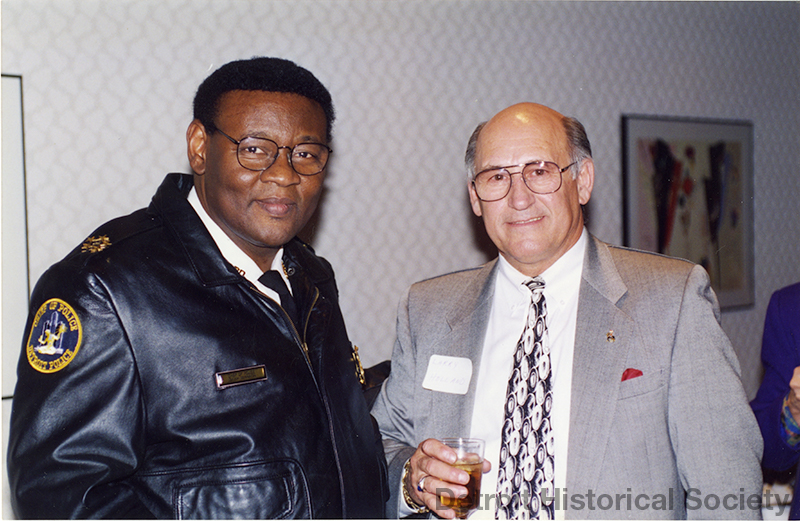 05 Jun

Bringing Police and Community Together

Ike McKinnon was 14 when he left junior high school at the end of the school day, when an infamous "Big Four" car, a terrorizing police unit consisting of four officers who roamed the streets of Detroit, pulled up and officers jumped out and beat him. It was profane. It was violent. It was life for African-Americans in the city.

"This is what I had seen as a young man," McKinnon said in "A View from the Streets," part of a four-part podcast entitled Rebellion in Detroit. The beating became a deciding moment for McKinnon. He would become a police officer to ensure what happened to him didn't happen to others. He would even rise through the ranks to become appointed chief of police by Dennis Archer, and later deputy mayor for Mike Duggan. But along the way, he would be a rookie cop, patrolling Southwest Detroit, where he would be called into work on July 23, 1967. He tried to calm the streets, but when he returned home, he nearly lost his life to his colleagues.

"I came home with my uniform on," he recalled. At one point, he was pulled over by two fellow officers. He exited his car, explained who he was and why he was on the streets. Instead of greeting a fellow cop, the police drew their guns. One said McKinnon would die that night, so he jumped into his car as triggers were pulled. "It was open season for anyone with racial biases," he said.

McKinnon could have cut and run after that night, but he didn't. He worked within a broken system and helping to fix it. It took time, even court orders, to make improvements, but they have come.

In 2013, the Detroit Police Department (DPD) started the Neighborhood Police Officer program, which brings officers and residents together on a more personal level. Current DPD Police Chief James Craig created a similar program while police chief in Cincinnati. Neighborhood Police Officers (NPOs) have long-term assignments within the precincts and use their time to develop relationships between residents and businesses while assisting with non-emergency, quality-of-life issues in the area. The idea is to create safer communities for everyone.

WOUM interviewed Officer Baron Coleman, a Precinct 8 NPO. He fully admits he understands why citizens don't trust police; most of their interactions involve crime or conflict.

"But 'if I come by your street every day, wave at you, be nice to you, be nice to your family…' trust will start to develop. That philosophy helps explains all the stuff he has in the trunk of his cop car: oven mitts [so he can man the grill at neighborhood cookouts], bright red camping chairs [so he can hang out at the park if there's a game or party], and a crate of juice boxes [for the kids in the neighborhood]."

In 2016, Governor Snyder signed an executive directive requiring the Michigan Commission on Law Enforcement Standards (MCOLES) to produce a report by May 1, 2017 to find better ways for police officers to work with the public. As reported in the Michigan Chronicle, the governor wanted four points addressed:
Consider the status of community relationships and what factors can impact the public's trust;

Consider law enforcement training requirements that can help improve community relationships, including implicit bias training, training on de-escalation techniques, and training on police interactions with those who have mental health issues;

Address how law enforcement agencies can improve communications with the public; and

Recommend additional improvements that can be considered by the state Legislature.
The recommendations were released in June and included community engagement efforts through schools and mandatory continuing education for law enforcement. The full report is here.
Detroit has come a long way since Ike McKinnon was a rookie cop. He stayed because he thought it was important to protect people of color – to protect all people. It's a work in progress, but stronger ties to and a stronger understanding within the community are making a difference.